Angola
Main producing and exporting countries
The October 2019 - January 2020 monitoring period covers the first half of the main growing season in Angola, which lasts until March. During this period, maize and rice are in the vegetative stages. Wheat harvest was completed by late October 2019. Nationwide, the agroclimatic parameters showed diverse patterns. Both rainfall and radiation increased by about 20% and 1% respectively, and the temperature recorded a slight decrease by about 0.2ºC from the fifteen-year average. Above-average rainfall occurred in late December 2019 and early January 2020, supplying crops with enough water during the critical plant developmental stages. The favourable agroclimatic conditions led to slightly above-average BIOMASS (+2%). Above the past five-year-average conditions were also observed in CALF (+10%) and maximum VCI was close to 0.95.
Analyzing the NDVI profiles, it is noticeable that conditions were below average in October but improved to average by January. The provinces of Zaire, Cuandocubango and northern areas of Huila counting to 61.5% of the total cropped area showed positive NDVI anomalies. On the other hand, negative NDVI anomalies were verified in the provinces of Cunene and the southern regions of Huila, about 38.5% of the total cropped area. Overall, the crop conditions are close to average.
Regional Analysis
CropWatch subdivides Angola into five zones based on cropping systems, climatic zones, and topography. They are referred to as the Arid zone, Central Plateau, Humidzone, Semi-arid zone, and Sub-humid zone.
The crop condition development graph based on NDVI for the different agroecological regions reveals that most of the period was characterised by below-average crop conditions. The maximum VCIx in all zones was located between 0.93 to 0.98. In the Arid Zone, rainfall (RAIN +70%) increased while both temperature and radiation decreased by 0.1ºC 4%, respectively. Their combined effect led to an increase in biomass by about 9%. The CALF also recorded a significant boost by about 67%.
The central plateau experienced an increase in both rainfall and radiation by 23% and 2% respectively. Temperature decreased by about 0.3ºC. In this region, while the biomass decreased (BIOMASS -8), the CALF increased by 7%. Increases in both rainfall (RAIN +6%) and radiation (RADPAR +3%) were also verified in the Humid zone. This region recorded a slight decrease in temperature by 0.2ºC. At the meantime, the Biomass decreased by about 7% and CALF was about the average.
In the Semi-arid zone, both rainfall and temperature increased by about 23% and 0.1ºC, respectively, and the radiation remained about the average. In this region, the potential biomass increased by 6%. CALF also recorded an increase of 19%. The Subhumid zone recorded an increase in rainfall by 16%; the temperature decreased by about 0.3ºC and radiation also increased by 2%. In the agronomic indicators, an increase of 2% was verified on CALF.
Figure 3.6 Angola's crop condition, October 2019 - January 2020

(a). Phenology of major crops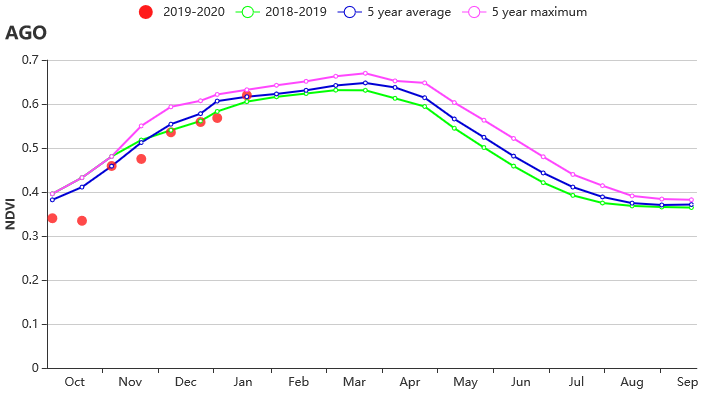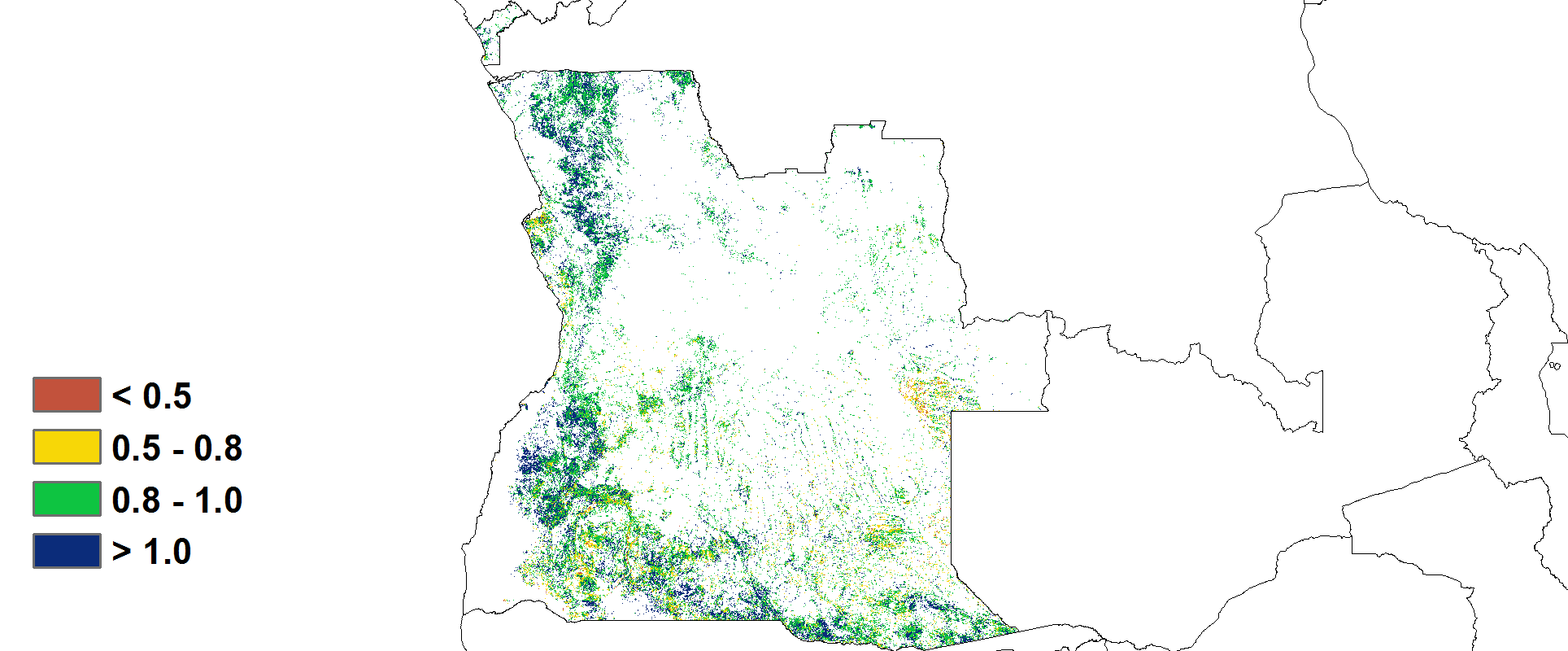 (b) Crop condition development graph based on NDVI (c) Maximum VCI

(d) Spatial NDVI patterns compared to 5YA (e) NDVI profiles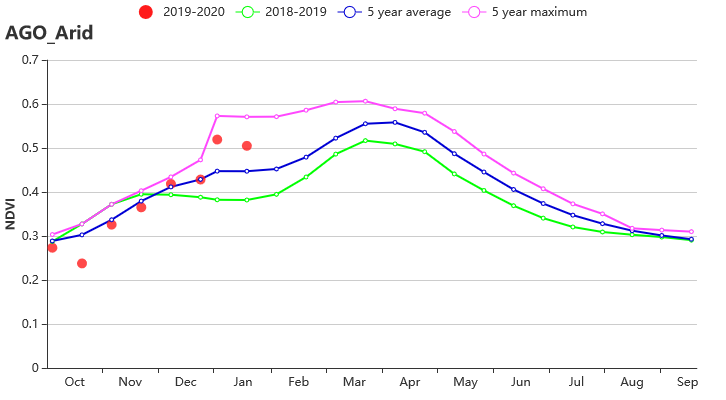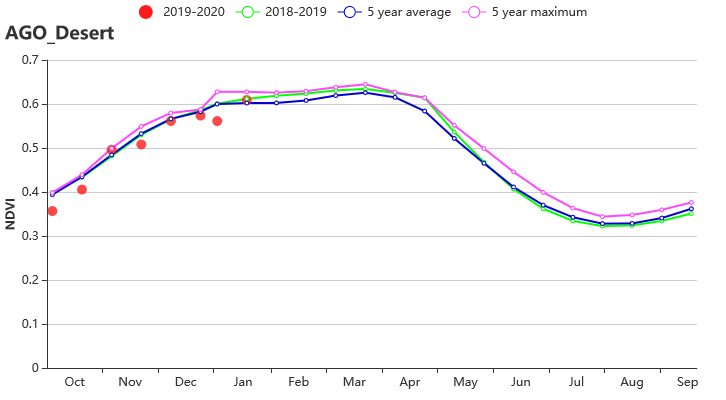 (f) Crop condition development graph based on NDVI-Arid zone (g) Crop condition development graph based on NDVI -Central Plateau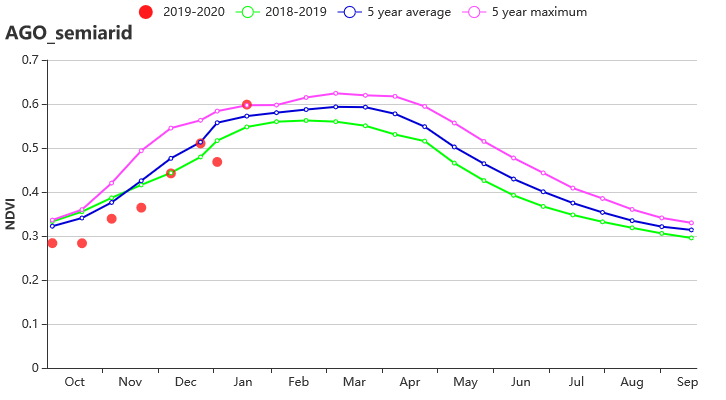 (h) Crop condition development graph based on NDVI-Humid zone (i) Crop condition development graph based on NDVI -Semi-arid zone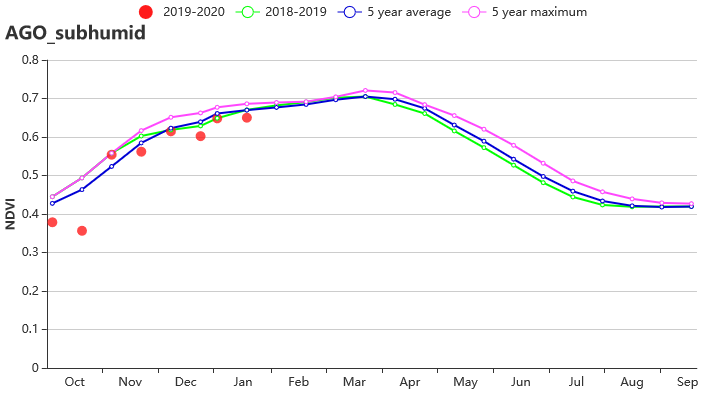 (j) Crop condition development graph based on NDVI-Subhumid zone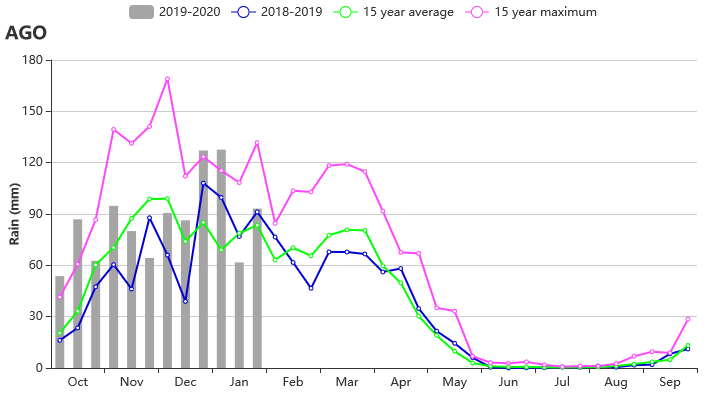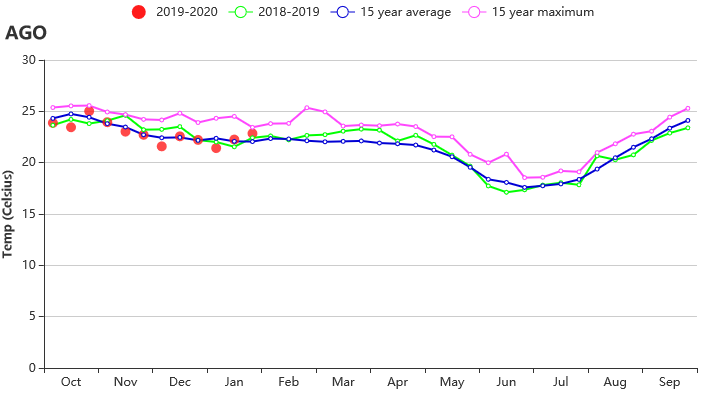 (k) National time-series rainfall profiles (l) National time-series temperature profiles
Table3.3. Angola's agroclimatic indicators by sub-national regions, current season's values and departure from 15YA, October 2019-January 2020
Region

RAIN

TEMP

RADPAR

Current (mm)

Departure from 15YA (%)

Current (°C)

Departure from 15YA (°C)

Current (MJ/m2)

Departure from 15YA (%)

Arid Zone

623

70

25.3

0.1

1322

-4

Central Plateau

1401

23

18.8

-0.3

1162

2

Humid zone

1450

6

22.0

-0.2

1175

3

Semi-Arid Zone

751

23

24.4

0.1

1305

0

Sub-humid zone

1164

16

22.4

-0.3

1206

2
Table 3.4. Angola's agronomic indicators by sub-national regions, current season's values and departure from15YA/5YA, October 2019-January 2020
Region

BIOMASS

CALF

Maximum VCI

Current (gDM/m2)

Departure from 15YA (%)

Current(%)

Departure from 5YA (%)

Current

Arid Zone

867

9

84

67

0.93

Central Plateau

574

-8

97

7

0.94

Humid zone

701

-7

100

0

0.98

Semi-Arid Zone

847

6

97

19

0.95

Sub-humid zone

734

0

99

2

0.95