Canada
Main producing and exporting countries
The monitoring period covers the harvest of winter wheat, and the peak development and early harvest of summer crops. Spring wheat was harvested in September and the planting of winter wheat was ongoing at the time of reporting.

Rainfall was nationwide above average(+8%) , while both the temperature and radiation were below (TEMP -0.9°C;RADPAR -1%). The conditions resulted in somewhat below average BIOMSS(-1%).
Based on the national NDVI profiles and clusters, the overall JASO crop condition improved over the previous season and was close to the last 5-year average. The situation was also an improvement over earlier periods of this year (JFMA and AMJJ). More precipitation fell over the three main winter wheat production provinces (Alberta +17%, Manitoba +39% and Saskatchewan +16%). However, lower temperatures and less radiation took their toll on crop conditions with BIOMSS decreasing below average in the three provinces (-10%, -2% and -3%, respectively). The maximum VCI value was nevertheless 0.95 and CALF was equal to the recent 5-years average.
Then NDVI clusters show that 21.7% of the cropland in Canada have a good contidion in the JASO period, while 16.1% are lower than average in the whole period. Besides, there is an isolated dramatic drop (3.1%) area of NDVI in SW Alberta. It may have been caused by cloud cover in the remote sensing data and should be ignored.
The final outcome of the season could be better than last year's due to the improved weather conditions, depending whether the beneficial effect rainfall was offset or not by low temperature and radiation. Conditions of spring wheat and maize were fine, and generally better than winter wheat and soybean.

Regional analysis
The Prairies (the region identified as 53 in the crop condition clusters map) and Saint Lawrence basin (region 49, covering Ontario and Quebec) are the major agricultural regions in Canada.
In the Prairies, the main production area for spring wheat, winter wheat and soybean, rainfall was well above average (RAIN 311 mm, +24%), but radiation (-1%) and particularly temperatures (-1.7°C) were below average. The biomass production potential was below average as well (BIOMSS -6%). Overall, the NDVI profiles show an improvement in crop conditions over last year. Therefore, after a poor start of the season, crop conditions are assessed as average.
In the Saint Lawrence basin, RADPAR was above average (+5.2%), and both the temperature and rainfall were slightly below average (TEMP, -0.3°C; RAIN, -5.9%). The potential biomass was slightly above average (BIOMSS, +3%). However, the NDVI profiles indicated that the crop conditions did not reach 2018 levels. Similar to the Prairies the crop conditions are assessed as average.
Canada's crop condition, July-October2019

(a). Phenology of major crops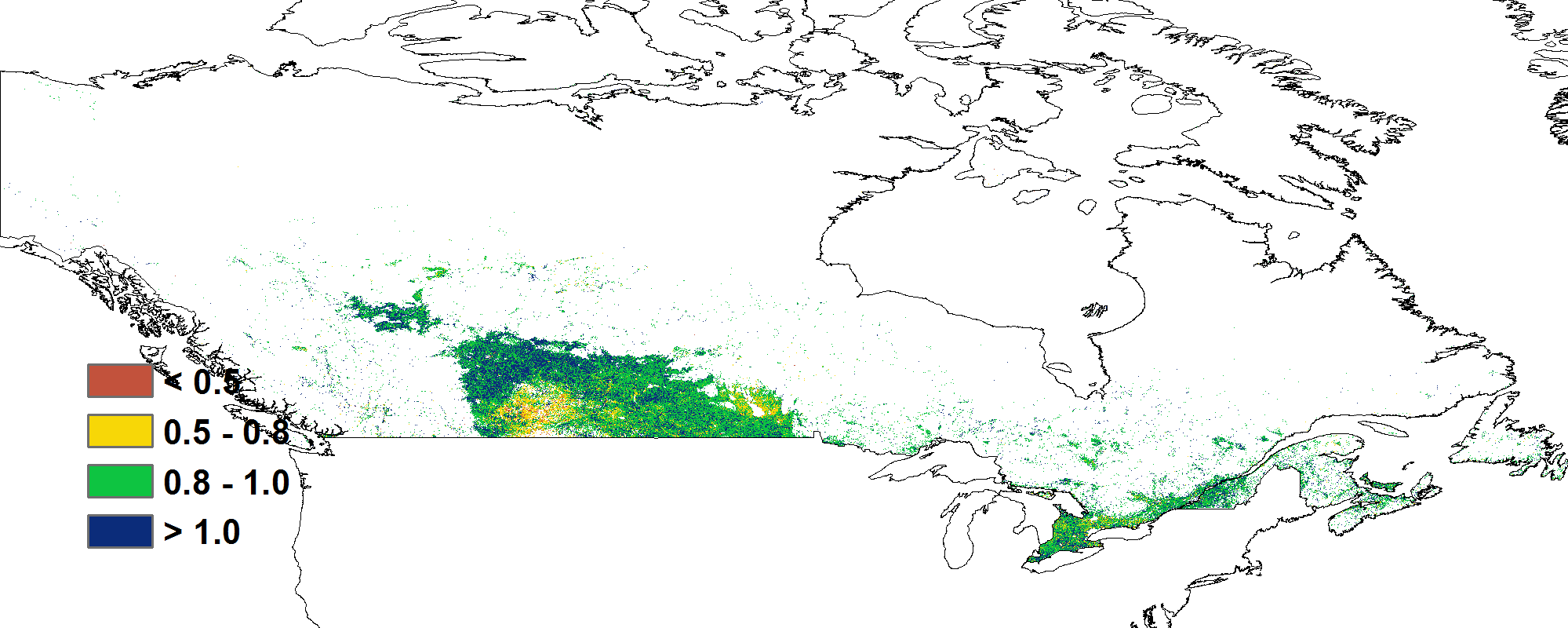 (b)Crop condition development graph based on NDVI (c) Maximum VCI

(d)Spatial NDVI patterns compared to 5YA (e)NDVI profiles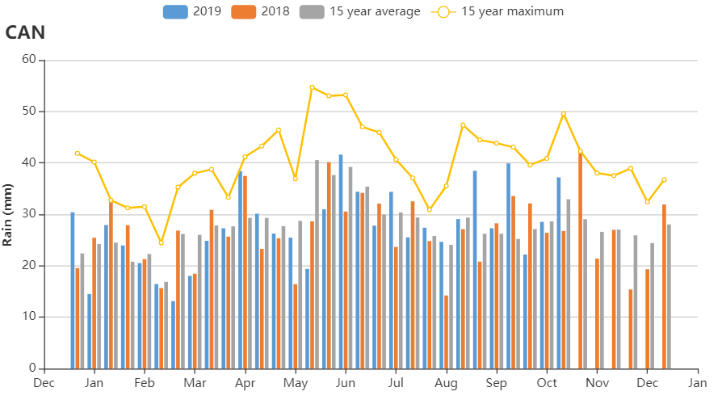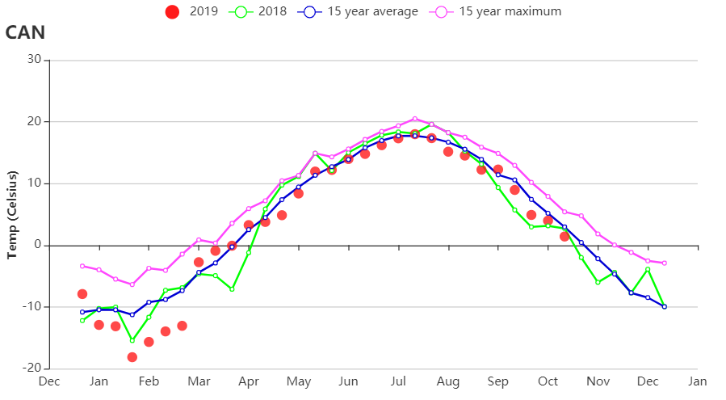 (f) Rainfall time series (g) Temperature time series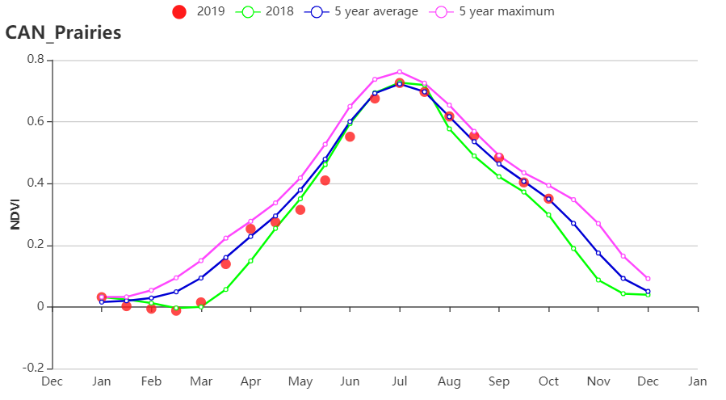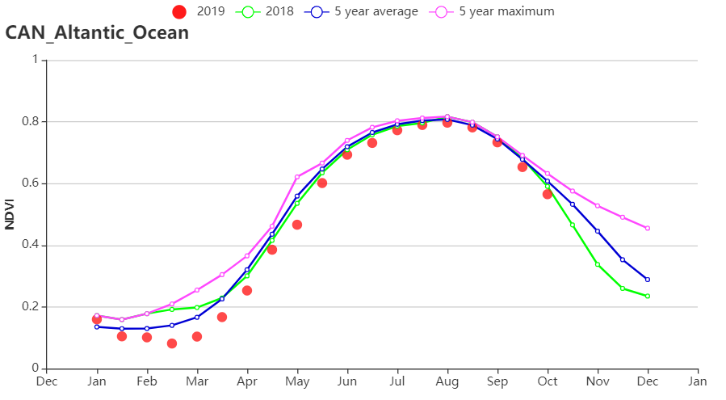 (h) Crop condition development graphbased on NDVI (Canadian Prairies region (left) and Altantic Ocean region(right))
July – October 2019 Agro-climaticindicators by sub-national regions, current season's values and departure from15YA
Region

RAIN

TEMP

RADPAR

BIOMSS

Current (mm)

Departure from 15YA (%)

Current (°C)

Departure from 15YA (°C)

Current (MJ/m2)

Departure from 15YA (%)

Current (gDM/m2)

Departure from 15YA (%)

Prairies (Canada)

311.1

24.0

11.6

-1.6

910.3

-5.1

355.6

-5.6

Saint Lawrence basin (Canada)

410.5

-5.9

14.0

-0.3

941.9

5.2

386.8

4.7
July - October 2019 Agronomicindicators by sub-national regions, current season's values and departure from5YA

Region

Cropped arable land fraction

Cropping Intensity

Maximum VCI

Current (%)

Departure from 5YA (%)

Current (%)

Departure from 5YA (%)

Current

Prairies (Canada)

97.8

-0.3

97

1

0.94

Saint Lawrence basin (Canada)

99.9

0.0

111

2

0.95