Ukraine
Main producing and exporting countries
The harvest of maize began in September and winter wheat was sown in August. The national NDVI development curve was slightly lower than the 5-years average from mid-August to October. Rainfall totaled 166 mm over the monitoring period, which was 44 mm below average. The average temperature reached 17.0°C, and the photosynthetically active radiation was 6% higher than average at 1002 MJ/m2. The potential biomass production was up 3% above average and the maximum VCI at the national scale reached 0.80. As a result, despite a decrease in rainfall, crop condition is assessed as average.
Regional analysis
Regional analyses are provided for three agro-ecological zones (AEZ) defined by their cropping systems, climatic zones and topographic conditions. They are referred to Northern wheat area with Rivne; Eastern Carpathian hills with Lviv, Zakarpattia and Ivano-Frankivsk Oblasts, Central wheat area with the Poltava, Cherkasy, Dnipropetrovsk and Kirovohrad Oblasts; and Southern wheat and maize area with Mykolaiv, Kherson and Zaporizhia Oblasts.
In the Central wheat area, rainfall was short by 19% compared with average, with normal temperature (TEMP -0.2°C) and higher than average radiation (RADPAR +6%), which led to slightly below-average NDVI. BIOMSS was 1% above average and VCIx was satisfactory (0.82).
Similar conditions prevailed in the Northern wheat area and in the Eastern Carpathian hills where VCIx was 0.89 and 0.90, respectively.
The Southern wheat and maize area showed average condition during the monitoring period. Weather was favorable: rainfall and temperature were average and radiation increased by 4% compared to average. The AEZ coincides almost perfectly with one of the areas identified by the spatial NDVI clusters for 21.9% of Ukrainian arable land, where NDVI was rather low in July, but then increased gradually to reach average values in August and above-average values for emerging winter wheat. This is also the area where most low VCIx values occur, to the extent that the average maximum VCI was 0.72, lower than other AEZs.
Ukraine's crop condition, August - October 2019

(a) Phenology of major crops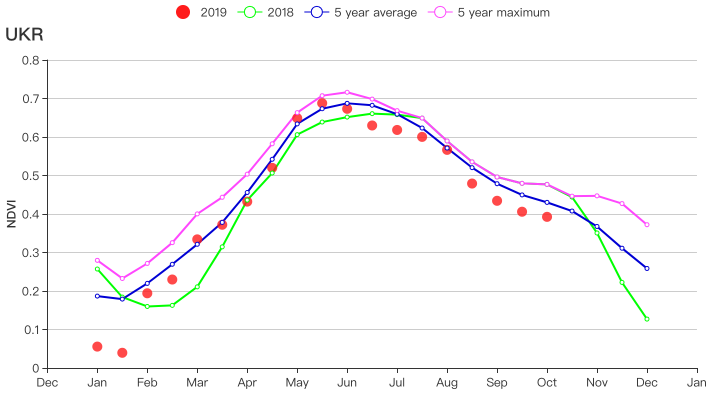 (b) Crop condition development graph based on NDVI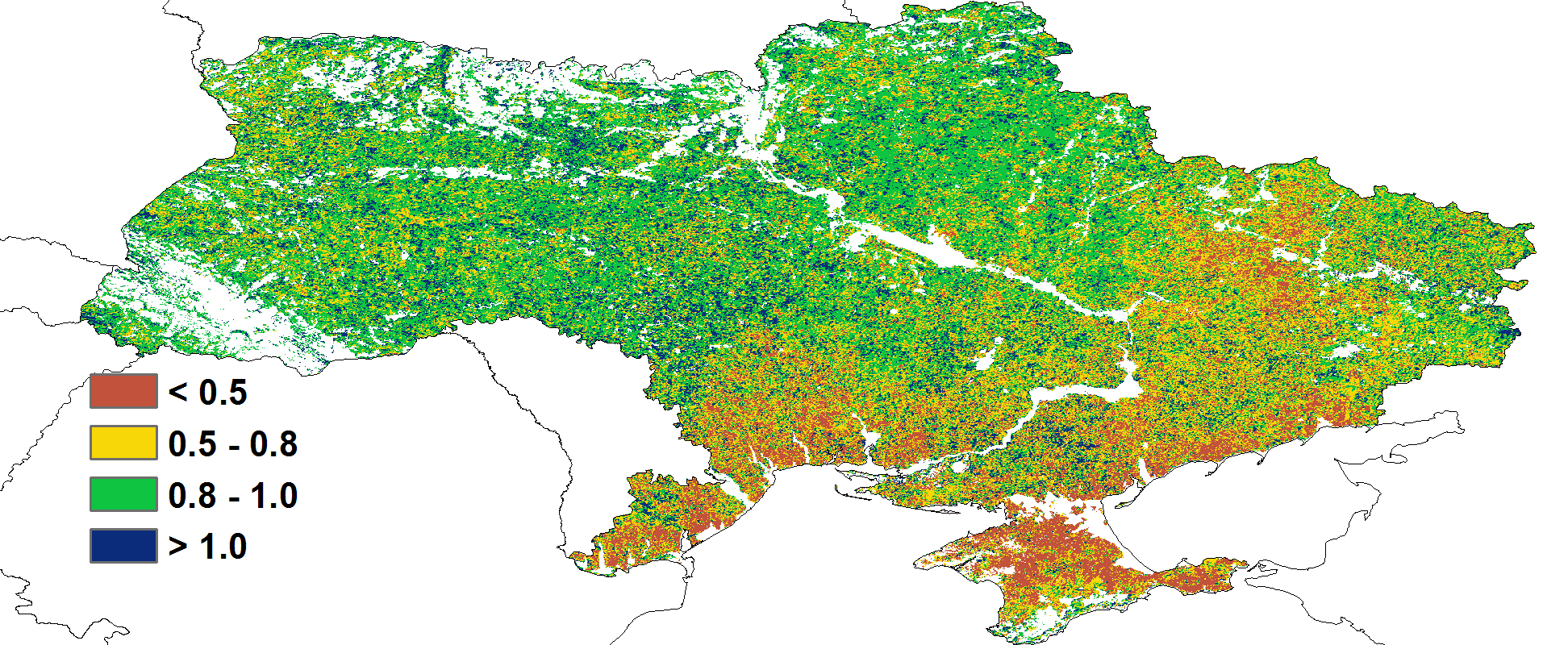 (c) Maximum VCI

(d) Spatial NDVI patterns compared to 5YA (e) NDVI profiles
(f) Crop condition development graph based on NDVI (Central wheat area)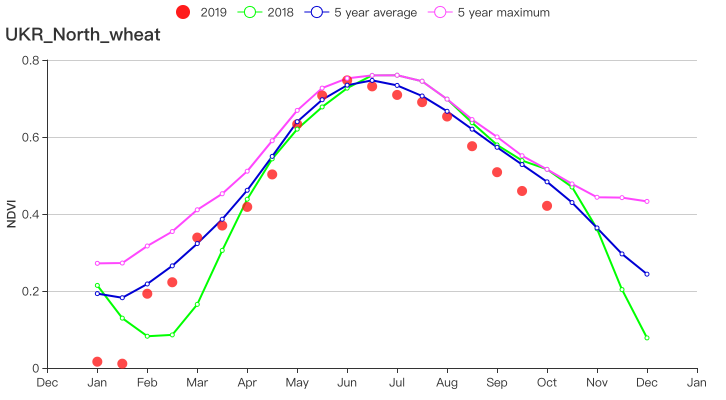 (g) Crop condition development graph based on NDVI (Northern wheat area)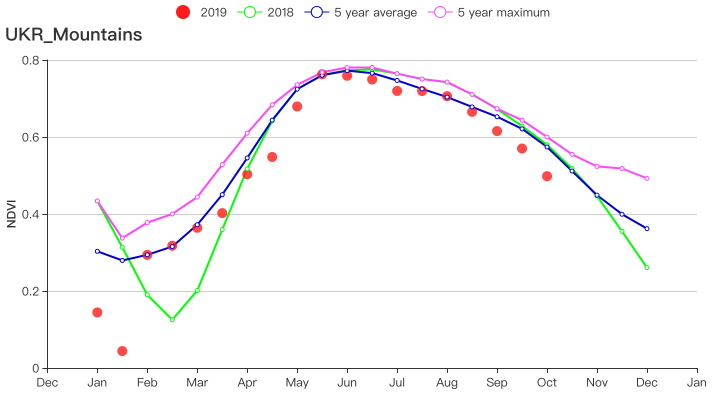 (h) Crop condition development graph based on NDVI (Eastern Carpathian hills)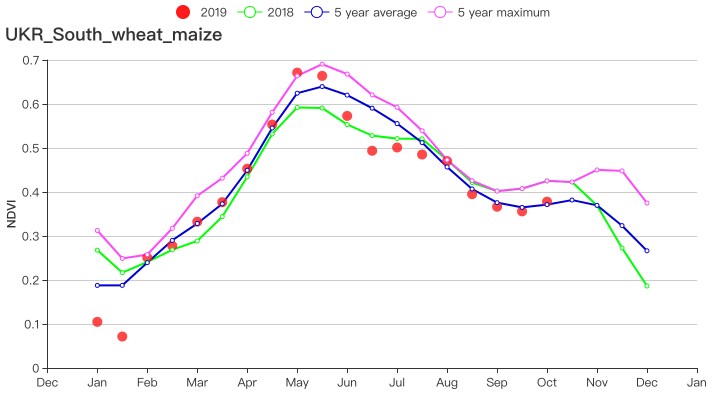 (i) Crop condition development graph based on NDVI (Southern wheat and maize area)
Ukraine agroclimatic indicators by agroecological zones, current season values and departure from 15YA, Aug- Oct 2019
Region

RAIN

TEMP

RADPAR

BIOMSS

Current (mm)

Departure from 15YA (%)

Current (°C)

Departure from 15YA (°C)

Current (MJ/m2)

Departure from 15YA (%)

Current (gDM/m2)

Departure from 15YA (%)

Central wheat area

156

-19

16.6

-0.2

998

6

459

1

Eastern Carpathian hills

201

-33

15.2

0.6

1015

7

430

6

Northern wheat area

173

-27

15.5

0.0

953

8

424

5

Southern wheat and maize area

163

-1

18.1

-0.4

1049

4

520

2
Ukraine agronomic indicators by agroecological zones, current season values and departure from 5YA, Aug- Oct 2019
Region

Cropped arable land fraction

Cropping Intensity

Maximum VCI

Current (%)

Departure from 5YA (%)

Current (%)

Departure from 5YA (%)

Current

Central wheat area

99

-1

104

-4

0.82

Eastern Carpathian hills

100

0

115

-8

0.90

Northern wheat area

100

0

110

-6

0.89

Southern wheat and maize area

85

-5

116

12

0.72