Kyrgyzstan
Main producing and exporting countries
The reporting period includes the harvest of all crops in September as well as the planting of spring wheat and summer crops until June, and the planting of winter wheat in October.
In spite of deficits in July and October, the nationwide rainfall amount reached 201 mm, which was just average. July was warm with mid-July temperature exceeding average by as much as 4.0℃. As a result, for the July-October period temperature was 0.3℃ above average; sunshine (RADPAR) was 3% higher than average. BIOMSS decreased by a spectacular -7% below average. As shown by the NDVI development graph, crop condition was generally below the five-average during the entire monitoring period, except at the end. The NDVI spatial patterns shows that 10.8% of the agriculture areas had above the 5-year average crop condition mostly west of and including Jalal-Abad, Osh and Talas Regions; 33.3% fluctuated around the 5-year average and 40.5% where below average, of which 10.7% with a departure close to 0.1 in the lowlands of northern Chuy Region. 15.5% of the agricultural areas had below the 5-year average crop condition until September, but then rose above the 5-year average, possibly in relation to the maize harvest.
The situation is largely confirmed by the VCIx map which shows high values (>0.8) in the west while low values in Chuy Region and the eastern part of Issyk-Kul. The average nationwide VCIx average was 0.85, which confirms the favorable condition assessed based on NDVI profiles.
Agro-climatic and agronomic conditions were mixed. With CALF at 88%, satisfactory VCIx but BIOMSS down 7%, summer crop output is assessed as just average.

Figure. Crop phenology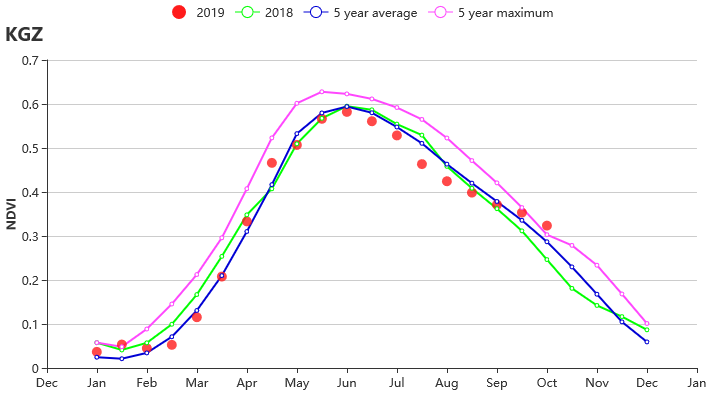 Figure.(a) Crop condition development graph based on NDVI_Kyrgyzstan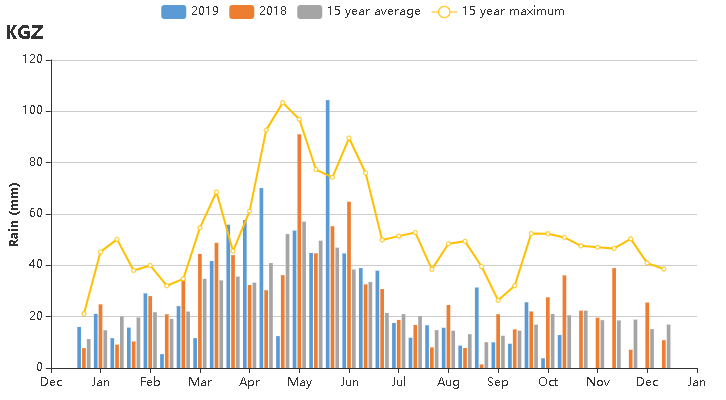 Figure.(b) Time series rainfall pofile_Kyrgyzstan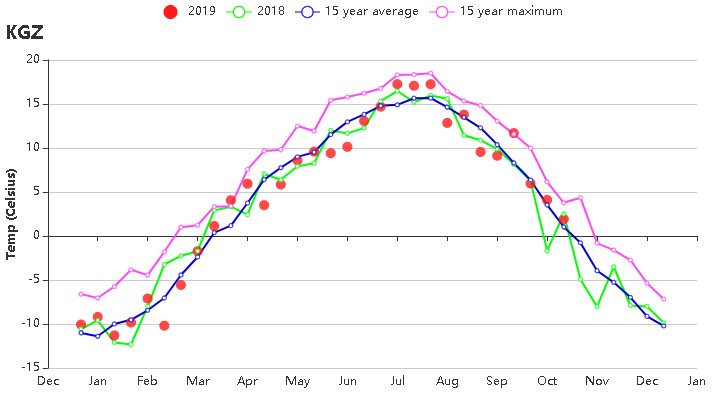 Figure.(c) Time series temperature pofile_Kyrgyzstan

Figure.(d) Maximum VCI
(e) Spatial NDVI patterns compared to 5YA (f) NDVI profiles
Table 1. Kyrgyzstan agroclimatic indicators by sub‐national regions,current season's values and departure from 15YA, July - October 2019

0

RAIN

TEMP

RADPAR

Region

Current (mm)

Departure from 15YA (%)

Current (°C)

Departure from 15YA (°C)

Current (MJ/m2)

Departure from 15YA (%)

Kyrgyzstan

201

0

11.2

0.4

1342

3
Table 2. Kyrgyzstan agronomic indicators by sub‐national regions,current season's values and departure from 5YA, July - October 2019 fifteen
0

BIOMSS

CALF

Maximum VCI

Region

Current (gDM/m2)

Departure from 15YA (%)

Current(%)

Departure from 5YA (%)

Current

Kyrgyztsan

377

-7

88

1

0.85